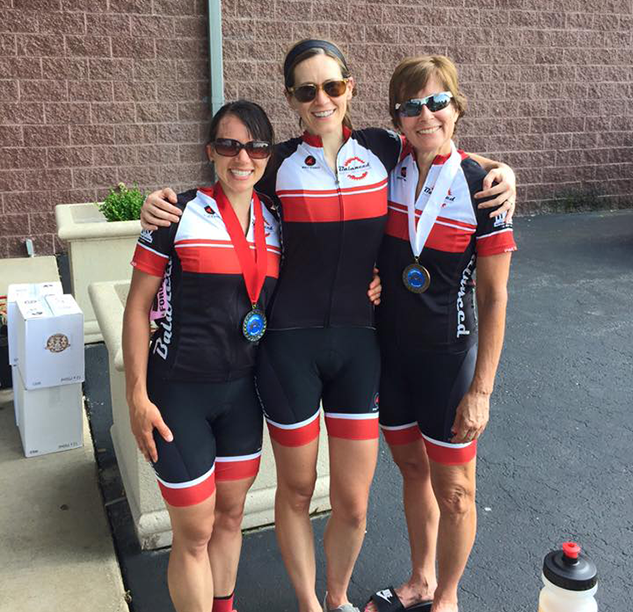 If you asked me how I got into cycling and racing, the answer might actually surprise you. My story initially has very little to do with riding a bike. Racing as it turns out filled a void that I had spent part of my of adult life trying to fill—the love of competition. As a young kid watching the Olympics I was mesmerized by the sport of gymnastics. Watching those young women compete and put themselves through some of the most rigorous routines was inspiring and brought about this excitement that I had never really felt about anything before. Soon after I knew this was the sport I wanted to invest my time in. My love of gymnastics quickly evolved into a serious commitment that required hours of practice in the gym, an understanding parent that was willing to drive me to practice almost every day, and to meets on the weekends. All those years of hard work fueled my dream of earning a college scholarship. As a college gymnast I competed in all four events, but the balance beam was one of my favorites. The beam required a lot of concentration and determination to stay on something that is only four inches wide.
At the conclusion of my college career I unfortunately sustained a knee injury that required surgery. I was trying out a relatively new dismount on the beam during practice and on the landing my body went one direction while my knee went in the other direction. As you can imagine our bodies are not meant to do that. Finding out that I would require surgery did not stop me from planning to return to competition my last year. I anticipated that I would get the surgery done, recover quickly and be back in time to compete for at least the last half of the season. That didn't exactly work out as I had planned. Many of us have faced some type of road block in our lives that sidelined us for a short or in some cases a long time. For me, life went on. I graduated from college, got married, and started my career in education. Within the next five years I had two young children and a very busy life. I would try and find some time here and there to get a workout in, but with young kids that was not always possible. I think I was always looking for some kind of physical activity that I could connect with like I did with gymnastics.
Fast forward 23 years and who knew I would find cycling as a way to stay fit and have fun at the same time. I had not been riding long when I was asked, "have you ever thought about racing?" That question initially made me laugh and think, is this person crazy! To make a long story short, after watching my first criterium, Gateway Cup, I decided that I might give this racing thing a try. Don't get me wrong there was a bit of skepticism about starting to race at the age of 51. At that point, wouldn't most people consider retiring from racing? I knew that several of the women in my field were considerably younger and that it would be a challenge, both physically and mentally, but I was up for it. I think for many lifelong athletes, their competitive spirit and mental toughness never really goes away. This was certainly the case for me, my desire to compete had just been in hibernation for a while. There are so many great things that have come from cycling. Whether it was getting on the podium for the first time, or being last in a race, of which I have been both, it's about what makes you happy.
When I took up cycling five years ago with a local bike shop, racing was the furthest thing from my mind. I was really just looking for some form of exercise that would allow me to get in a good cardio workout and put the least amount of strain on my joints. Initially that was enough to have found an activity to participate in. What I did not expect when I started cycling was that I would fulfill the void that had been left by gymnastics, specifically my love of competition. I was again able to set goals and see how well I could achieve those goals against my peers.
Although I never really thought much about it, the sport of gymnastics and bike racing have many similarities. With gymnastics you compete individually on different pieces of apparatus. You are always trying to make individual improvements in your performance, but you are also part of team and encourage each other along the way. In cycling, individual improvements are measured by increasing your power, improving bike handling skills, and shaving time off that TT race. The goals of the individual are in important, but are only part of the picture. In both gymnastics and bike racing you encourage each other and work together as a team towards a common goal. And in some cases, specifically with cycling, that requires you sacrifice your finish so a teammate can win a race.
To be back competing and a part of a team has been so much fun. It's always exciting and rewarding when a race situation comes together. Two years ago a teammate, Amy, and I were in a criterium together and she was able to communicate with me about what was developing before the sprint finish. Her awareness and quick thinking made a difference in how we were able to finish the race. Because of her we were both able to finish on the podium. That's teamwork! The encouragement we all provide each other has been one of my favorite parts about returning to competition.
After being a competitive gymnast for so long and leaving the sport due to injury I had searched but never found a form of exercise that I could really connect to until it came to cycling. I'm not sure what will happen in the future. Last year I thought it was time to hang up racing, but realized that I still had a little left in me. I have learned that you don't have to set limits on yourself and "never say never." Take it one day at a time or sometimes in my case one race at a time.