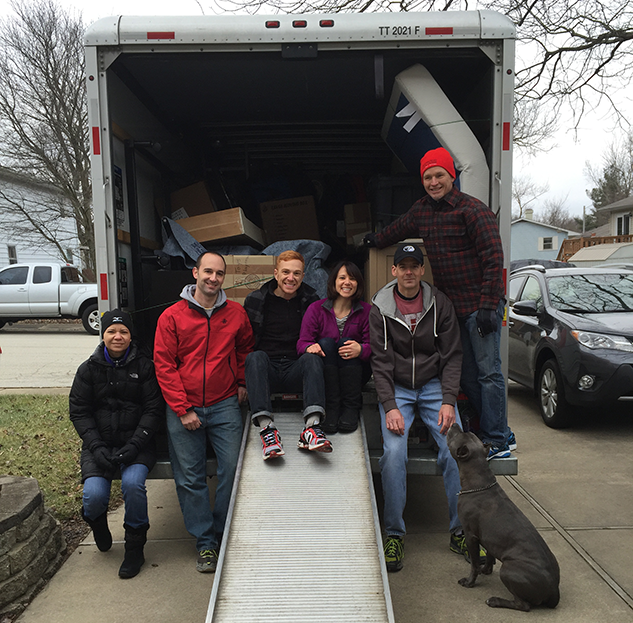 Over the past couple of months my family and I have gone through many changes together. Within these months my husband and I decided to venture out of our little comfort bubble and sell our house, make a career change, and move to St. Louis. Leaving the familiarity of a town we both grew up in, our families and friends can be hard at times. We both knew, however,  that we had to keep pressing on so that 20 years from now we wouldn't look back in regret and would honestly be able to say that even though things were uncertain we stepped out and embraced what all the Lord had in store for us.  I must say that I am truly proud of my husband for giving up the reliable job that he had that did provided stability but did not fulfill him or challenge him to pursue a career he is truly passionate about. Taking that step or even leap of faith can be nerve wracking at first, but in the end it yields much fruit.
Step one of our plan was to sell our house and move. Well it sold within three weeks! Let the hunt for the new place begin! Off we went to explore what all St. Louis had to offer.  We decided that we wanted to be close to downtown St. Louis so that we could embrace the city life, something we had never experienced before.  With my teamie, Lauryn, at our side we perused the streets of St. Louis and stumbled across a quaint apartment located in University City. Even though I am only at the apartment on the weekends, it can definitely take some getting used to, especially since we can hear EVERYTHING that goes on upstairs! Talk about getting to know your neighbors. Our dog Tyson is settling in too, he even has made some new friends.
We had lots of help from our families and friends getting settled in to this new life style. The folks at Spin City Cycles in Decatur and our respective race teams, Balanced and Korte Hammer Down, were a huge help and we honestly don't know how we would have done it without their support and encouragement.
I work as a social worker for the VA in Decatur, IL.  My transfer to St. Louis has been approved, however I am still waiting on my official transfer date. The commuting back and forth to seeing my husband and little buddy Tyson on the weekends has been rough, to say the least. I am trying to remain joyful through this all and remind myself daily that even when there are unforeseen obstacles in life it is important to push on through and not get discouraged.
If all of that wasn't enough, I also committed myself to competing at TT nationals and to racing with the Chicago Women's Elite Composite team. CWEC's mission is to support and develop top-level female cyclists to reach their full potential through education and by inspiring confidence within them.  Racing with this team will allow me opportunities to race nationally on a more competitive platform.  Each rider is also responsible for taking the concepts they have learned back to their teams as a means to keep the women's racing scene alive. In looking at the 2016 race calendar it is sizing up to be the hardest season I have ever done. When I was going over everything with my coach Paddy, we came up with a good game plan to help me balance the crazy life changes and my training.
There have been plenty of days where I was mentally and physically drained, but I had to remind myself that a vision without a plan is a hallucination. It is in these circumstances where teammates and coaches prove to be more valuable than you could ever imagine. They have been there to help me make the transition into this new life chapter and I am truly thankful for them.
As I begin to lay my goals out for the season, I am learning how important it is to realize that we all have greatness inside of us.  When we truly begin to understand this, we can break down the limitations we have set on ourselves and reach our true potential. When we are fearful of change we can remain stagnate and the decision Evan and I made to choose a different life for the both of us will in the end lead to endless possibilities. Life will always give you challenges and difficulties, but you have to find balance so that your dreams and goals may be fulfilled.